Please join the Webring I have created for the friends I have lost and family. I want to share with others who have lost friends, Family members. To help get thru the hard times to share stories. To let others know they are not alone in this. I want to thank many of the members that have joined so far, Your courage to go on and now help others through they hard difficult times is coragious. I would Like to thank Jack (aka LIVEWIRE) for putting in all the information for me to get the webring formed since I had no idea at the time what I was doing.

Important message for people with this webring. Please read to see if your name is listed
Click here to see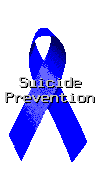 ~Suicide Prevention Help Page~

This site offers warning signs to watch out for if you think someone may be concidering suicide as well as a refrence to places where you can seek help should you or someone you know be exibiting these signs. If none of the numbers or other resources listed here is accesable to you CALL YOUR LOCAL EMERGANCY ROOM or other healthcare provider... Where available and in the worst case 911 for help

Join the Suicide Prevention Webring here



Enter WWJD.com!
links from sites that joined the webring but do not have the code right or they don't have it up
QPR Suicide Prevention http://www.qprinstitue.com
Suicide Prevention Help http://members.tripod.com/~suicideprevention/index.html
Suicide Awarness http://www.geocities.com/Heartland/Garden/6857
A Final GoodBye http://www.angelfire.com/wi/GoodBye
Befrienders.org http://www.befrienders.org
A friend to talk to http://members.tripod.com/~lglkoh9
American Foundation for Suicide Prevention http://www.afsp.org
Pages made and maintained by ©: Shannon Taylor of Web Archmage.


This page and others are not to be recopied in anyway or form without my permission, or the person/person's permission Thank You!
Disclamier: I am not a PROFFESIONAL. I am just a person who has been thru this and would like to help. Please seek proffesional help when needed.